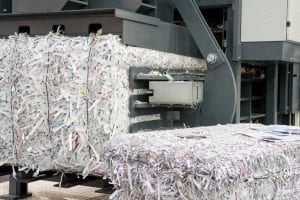 Combined Resources and its recycling center provides paper recycling expertise for commercial facilities and offices. Our office paper recycling services are both innovative and practical to meet your specific needs. Behind every business, recycling solution is the foundation of our full-service commitment to implementing the best commercial and office paper recycling program. If your business is a large volume paper generator, our team will ship your material mill direct to ensure the best possible revenue and schedule prompt recycling pick-ups of bales so that your facility is clean and safe for you to operate efficiently.
Other office and business recycling customers utilize the single truck method; there is no need to sort paper and hold for full trucks of each paper grade. Just load the gaylords/bales onto one truck and we will provide you with an accurate accounting of the contents of each load. CRI will also provide the necessary office recycling equipment and materials to recover your various grades of paper – spotted trailers, plastic totes, gaylords and balers. Therefore reducing clutter and improving facility safety. Our business recycling servcies are secodn to none.
CRI also provides custom recycling programs for businesses, offices, and commercial facilities.
Paper Recycling Services
Printing Grades
Coated Book
Office Waste
Ledger (Color-White)
Pulp Substitute
Magazines
Certified Paper Destruction
Light and Heavy Print SBS
Newspaper
Books
Poly Coasted Grades
Unprinted Grades
Wet Strength
Mixed Paper
Soft and Hard White