Wood & Plastic Used Pallet Recycling
Sign Up for Our Pallet Recycling & Pallet Pick Up Program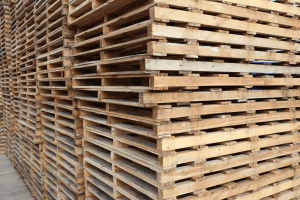 Combined Resources, Inc. is your premier wood pallet and plastic pallet supplier that is focused on tailored, customer-driven solutions. We offer the largest variety of Upcycled 48×40 GMA grades and custom Recycled Hybrid pallets. Whether you are looking to add used pallet recycling and disposal to your program or are in need of purchasing pallets for your business, Combined Resources can develop a program to fit your needs. For more information on our pallet recycling methods or if you have any questions about how we can come up with custom solutions for your business, give us a call today at 630-693-0111. You can also reach us by clicking the contact button at the top of this page and we will get back to you shortly.
Used Wooden Pallet Recycling & Removal
Are your used plastic or wooden pallets creating clutter in your warehouse, loading zones or factory? Recycle and dispose of your pallets today with Combined Resources, Inc. to clear that much-needed space. We offer customizable used pallet recycling & pick up services for small to large businesses. Used pallets are able to be loaded with your other recyclable materials creating a single load. With our fleet of trailers, we are able to schedule pickups and even live loads of your used wood or plastic pallets to ensure a timely office or business recycling program focused on efficiency.
Plastic Pallets
Plastic pallets do not contain any nails or staples that could cause damage to product or personnel. They can also be exported without heat treatment. Type and amount of material will determine dynamic load capacity. The usage will determine the style of plastic pallet needed for each application. To learn more about our pallet recycling solutions or if you would like more information about our other services, call us today at 630-693-0111. Or simply click on the contact us button at the bottom of the page and we will respond shortly.
Types of Wood & Plastic Pallets
New & Used 48×40 lightweight Plastic Pallets
48×48 Pallets
48×40 Block Pallets
Grade A Pallets:
Reconditioned Pallets
No blocks
No half runner stringer repairs

Repaired by block or half runner stringer
Grade B Pallets:
Reconditioned Pallets
New Pallets—Built to order
Uses Yellow Pine or hardwood
Custom Sizes
Heavy Duty Available